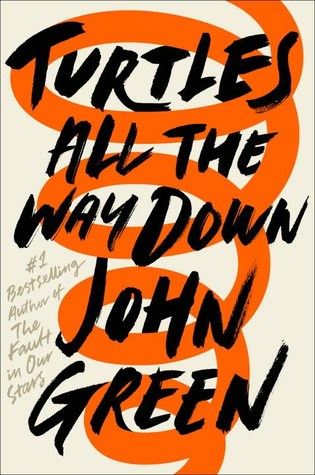 Goodreads Summary:
#1 bestselling author John Green returns with his first new novel since The Fault in Our Stars!
Sixteen-year-old Aza never intended to pursue the mystery of fugitive billionaire Russell Pickett, but there's a hundred-thousand-dollar reward at stake and her Best and Most Fearless Friend, Daisy, is eager to investigate. So together, they navigate the short distance and broad divides that separate them from Russell Pickett's son, Davis.
Aza is trying. She is trying to be a good daughter, a good friend, a good student, and maybe even a good detective, while also living within the ever-tightening spiral of her own thoughts.
In his long-awaited return, John Green, the acclaimed, award-winning author of Looking for Alaska and The Fault in Our Stars, shares Aza's story with shattering, unflinching clarity in this brilliant novel of love, resilience, and the power of lifelong friendship.
My Thoughts:
I grabbed this at the library when I was checking out some other books, and truth be told I had not even heard of it, but I was intrigued by the cover and the title. AND OMG I GOBBLED IT UP. I read it in just a few hours, because I literally could not stop reading it. I LOVED IT. I have not read any John Green books, but I do own a couple, and I am going to need to read these right away because this book was just so fucking good.  This book did make me questions things I thought I knew about OCD. This is the second time in as many weeks where I have heard of these "intrusive thoughts" (our main character calls them invasives) and this is something I actually have that I didn't even know what a thing. I learn more from fucking fiction novels about my own health than I do from real doctors that I see. Fuck. Anyway. I love the explanation of the title. Aza is perfect. She is stuck in her head and dealing with invasives and trapped in thought spirals. Her OCD is one of the most honest portrayals of mental illness that I have read in contemporary fiction. She also very clearly has depersonalization disorder, but neither of these diagnosis are mentioned. I thought that was a little weird. The way she makes you experience her OCD with her is brutal and shocking. I out loud yelled at her about putting fucking hand sanitizer in her mouth. I am so glad she got caught, because girl you need help. Also a nod at Lexapro which I was taking and totally helped me, but like Aza, felt like well I don't really need it anymore, because I should just get to be who I am and not have to use medication. This book made me call and get an appointment with my doctor. I need help too. I fucking hate her best friend Daisy. How dare you write your friend into your fac fiction (and lots of star wars talk because she writes Star Wars fan fiction, and I could not care less, I never watched the movies) that is so fucking mean. Maybe you need an outlet to deal with how your best friend is mentally ill, but to make her the garbage character in your stories that thousands of people apparently read. Fuck you. Write that shit in your diary or private blog. Not for thousands to read. Rude AF. Davis is so cute though. He was such an adorable character. I loved all the metaphors, and why can't I find a therapist like hers. I need someone like that in my life. I actually emailed a bunch of new therapists in the area and am trying to find someone new. I am not going to give up this time. Thanks book. I like that Aza doesn't just "get fixed", and that being with a guy doesn't change her, because none of that shit is realistic with mental illness. This book was amazing. I yelled, I cried, I loved it.
Quotes (it's really hard to limit this because this book was just so FUCKING good):
"Your now is not your forever."
"We never really talked much or even looked at each other, but it didn't matter because we were looking at the same sky together, which is maybe even more intimate than eye contact anyway. I mean, anybody can look at you. It's quite rare to find someone who sees the same world you see."
"You're both the fire and the water that extinguishes it. You're the narrator, the protagonist, and the sidekick. You're the storyteller and the story told. You are somebody's something, but you are also your you."
"True terror isn't being scared; it's not having a choice on the matter."
"The problem with happy endings is that they're either not really happy, or not really endings, you know? In real life, some things get better and some things get worse. And then eventually you die."
"The worst part of being truly alone is you think about all the times you wished that everyone would just leave you be. Then they do, and you are left being, and you turn out to be terrible company."
"Actually, the problem is that I can't lose my mind," I said. "It's inescapable."
"It's a weird phrase in English, in love, like it's a sea you drown in or a town you live in. You don't get to be in anything else—in friendship or in anger or in hope. All you can be in is love."
"One of the challenges with pain–physical or psychic–is that we can really only approach it through metaphor. It can't be represented the way table or a body can. In some ways, pain is the opposite of language."
"Our hearts were broken in the same places. That's something like love, but maybe not quite the thing itself."
"And we're such language-based creatures that to some extent we cannot know what we cannot name. And so we assume it isn't real. We refer to it with catch-all terms, like crazy or chronic pain, terms that both ostracise and minimise. The term chronic pain captures nothing of the grinding, constant, ceaseless, inescapable hurt. And the term crazy arrives at us with none of the terror and worry you live with."
"Most adults are just hollowed out. You watch them try to fill themselves up with booze or money or God or fame or whatever they worship, and it all rots them from the inside until nothing is left but the money or the booze or God they though would save them. Adults think they are wielding power, but really power is wielding them."
"Worrying is the correct worldview. Life is worrisome."
"People always talk like there's a bright line between imagination and memory, but there isn't, at least not for me. I remember what I've imagined and imagine what I remember."
"We always say we are beneath the stars. We aren't, of course—there is no up or down, and anyway the stars surround us. But we say we are beneath them, which is nice. So often English glorifies the human—we are whos, other animals are that—but English puts us beneath the stars, at least."
"There is hope, even when your brain tells you there isn't."
"I wanted to tell her that I was getting better, because that was supposed to be the narrative of illness: It was a hurdle you jumped over, or a battle you won. Illness is a story told in the past tense."
"Every loss is unprecedented. You can't ever know someone else's hurt, not really – just like touching someone else's body isn't the same as having someone else's body"
"In the best conversations, you don't even remember what you talked about, only how it felt. It felt like we were in some place your body can't visit, some place with no ceiling and no walls and no floor and no instruments"
"I would never slay the dragon, because the dragon was also me."
"It's so weird, to know you're crazy and not be able to do anything about it, you know? It's not like you believe yourself to be normal. You know there is a problem. But you can't figure a way through to fixing it. Because you can't be sure, you know?"
"I couldn't make myself happy, but I could make people around me miserable."
"Dr. Karen Singh liked to say that a unwanted thought was like a car driving past you when you're standing on on the side of the road, and I told myself I didn't have to get into that car, that my moment of choice was not whether to have the thought, but whether to be carried away by it.
And then I got in the car."
"I guess at some point, you realize that whoever takes care of you is just a person, and that they have no superpowers and can't actually protect you from getting hurt."
"Imagine you're trying to find someone, or even you're trying to find yourself, but you have no senses, no way to know where the walls are which way is forward or backward, what is water and what is air. You're senseless and shapeless—you feel like you can only describe what you are by identifying what you're not, and you're floating around in a body with no control. You don't get to decide who you like or where you live or when you eat or what you fear. You're just stuck in there, totally alone, in this darkness. That's scary."
"You feeling scared?"
"Kinda."
"Of what?"
"It's not like that. The sentence doesn't have, like, an object. I'm just scared."