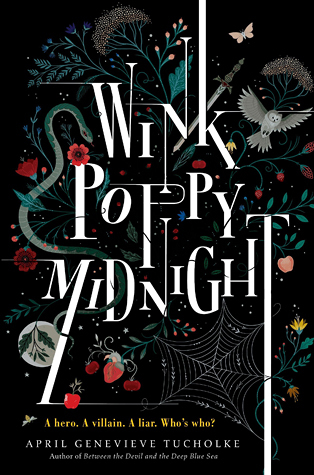 Goodreads Summary:
Every story needs a hero.
Every story needs a villain.
Every story needs a secret.
Wink is the odd, mysterious neighbor girl, wild red hair and freckles. Poppy is the blond bully and the beautiful, manipulative high school queen bee. Midnight is the sweet, uncertain boy caught between them. Wink. Poppy. Midnight. Two girls. One boy. Three voices that burst onto the page in short, sharp, bewitching chapters, and spiral swiftly and inexorably toward something terrible or tricky or tremendous.
What really happened?
Someone knows.
Someone is lying.
My Thoughts:
This book was so fucking good. I love the writing style in this book! This book is told in three points of view, and is full of whimsy. I really like books that are told in multiple POVs. Midnight is such a cute, sad character. He puts up with Poppy and, just no. Speaking of Poppy, she is a sociopath or something. She is so mean, She's basically the devil. Wink is Midnight's neighbor who reminds me of Luna Lovegood, if Luna was also evil. She is the whimsical one, who is basically feral. She believes in magic and her mom reads tarot cards. And she is also a fucking psychopath. Poor, poor Midnight. AND Oh the plot twist. Honestly I felt so bad for Midnight, and then on the other hand I was like get the fuck out of there you complete and total idiot. Anyways I loved it.