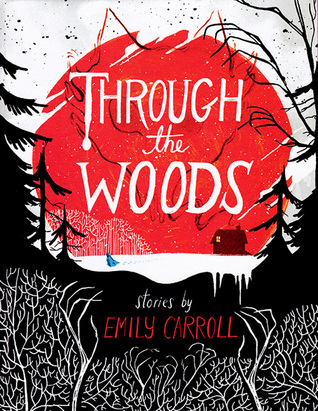 Goodreads Summary:
'It came from the woods. Most strange things do.'
Five mysterious, spine-tingling stories follow journeys into (and out of?) the eerie abyss.
These chilling tales spring from the macabre imagination of acclaimed and award-winning comic creator Emily Carroll.
Come take a walk in the woods and see what awaits you there…
My Thoughts:
This graphic novel is separated into 5 macabre tales.  Easy to read, with beautiful illustrations, and haunting stories, what's not to love?? The graphics are arresting and I want to hang some of the artwork in my room. That is how good it is.  This book is perfect for horror and fairy tale lovers.  A lot of reviews talked about how scary the book was, and even adults were saying they couldn't sleep after reading this in the dark.  I, too, read this book at night, but I had no problems drifting off to bed afterwords.  Although the stories are ominous, I didn't find them terrifying, more Brothers Grimm than Stephen King for me. Not that this is a bad thing, not at all.  I love fairy tales, especially this dark version.
Save