Today we have Stephanie from Reading is Better with Cupcakes!!
Give us the history of you. (family life, where you're from, etc.)
I am a 32 year old SAHM to a 1 year old little girl I commonly refer to as The Bug. Before this though, I spent about 6 years being a bookseller!
When did you start blogging? Was this your first blog?
My blog is actually almost 1 year old! It turns 1 in a month! Technically, no, this blog is not my first one. Once upon a time I created one called Crouton's Crunchy Reviews but I never really did anything with it. I took the reviews I had posted on there and used them to jumpstart Reading is Better With Cupcakes and it has been smooth sailing since.
What made you start blogging?
I had been a bookseller for 6 years! It had become a part of me and I missed it! I also wanted a way to keep my brain exercised and I figured a blog would force me to use my brain. This way when I write a review, I have to write more than "It was good. I liked it."
I also love helping authors and publishers. I like being able to help them get the word out about their books and all things bookish. It was something I got to do a lot of working in a bookseller, planning events and what not and I thought that this would be a great way to continue to help them out!
How did you come up with your blog name?
My blog name is actually inspired in part by my xbox gamertag: MurderByCupcake (feel free to add me!) I had to ask my friends to help me come up with a name though. One of them came up with Reading is Better With Cupcakes and I absolutely loved it!
 How long were you running your blog before you started getting many followers?
I honestly don't know the answer to this. I never really paid attention to when people started hitting the follow button on my blog.
 Walk me through the process that you went through to get your blog to where it is today.
Um.  I was sitting on my cough thinking to myself "what can I do with all this free time I have and all these books Im reading?"  "Oh I know! I'll start a blog!"
So I made one and all the social media accounts.  I already knew about Netgalley and Edelweiss from having been a bookseller so I had those already done.  And then I just went with it.  Sometimes I did some research via google to find an answer or something, but really I just wing it.
How many books do you read in a month?
I think currently I average around 10 to 12 a month! To be fair, a couple of those usually are picture books 🙂
What book did you read most recently that you loved, and would recommend to everyone?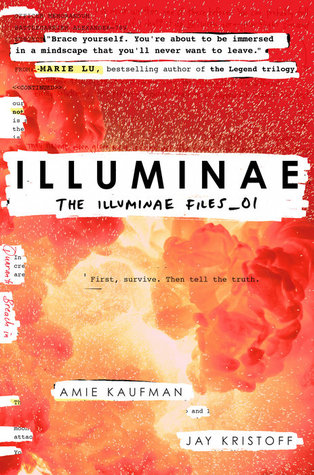 I finally read Illuminae last month and have been kicking myself for waiting so long to read it. It was amazing!
What are the top questions you get asked by your readers? 
I actually don't really get any questions from my readers 😦
If a new blogger came up to you today, and you only had a few minutes to talk, what would be your best blogging tip?
Do what you want to do when you want to do it. But if you promise a date or time frame to someone – stick to that promise. They are counting on you.
Have you ever liked the movie more than the book? Be honest! 
No I don't think so. Not yet at least. But there are still some movies for books that I haven't watched yet.
Are there any popular books you know you would never read?
Well….50 Shades of Grey I wont read. I also will not read Twilight. Nope nope nope. You can't make me.
Any new blog features you are working on?
No, I dont have any new ones in the works. I am just trying to keep focused on the ones I have. Some of them I have been really good about keeping up on and others I have only managed to post on a couple of times. So until I can do all of them on a consistent basis I don't plan on adding any new ones.
What are 5 items you never leave home without?
My child. My phone. My pants. Extra Diapers. Snack food for the kid.
Like I said earlier Im a mom….life isn't always exciting
Anything else you would like to add?
While I love to talk books, I also love to talk crafting. Also, I don't bite – so feel free to reach out ❤
Stalk Stephanie:
Thank you so much, Stephanie, for being a part of my blog today!! ❤
PS: Do you have any questions for Stephanie??