Today we are so super lucky to have Karen from Karen Nerds Out on the blog!
Give us the history of you. (family life, where you're from, etc.)

I'm a Jersey girl raised in south Florida. In 2001, I graduated from UF (Go Gators!) and

two years later

hopped a plane to teach English in Japan for five and a half years. I've been a boarding school dormitory supervisor, a Japanese-speaking Flight Attendant, and now I work full-time in Orlando, FL. In December 2015, I did the hardest thing for a gal with wanderlust could possibly do: I bought a townhome and unpacked my suitcases!! In February 2016, my family grew with the addition of my beautiful rescue pooch, Zelda!
• When did you start blogging? Was this your first blog?
Technically, my senior independent research project in lieu of a thesis was on the impact of electronic writing spaces on creative writing and digital identity in 2001. Privately, I shared my experiences in Japan (2003-2008) via LiveJournal. In 2009, I started running, and used blogging as a way of going public and accountability with my fitness journey. Slowly, I kept expanding my online presence to include my passions, film, books, running, traveling, and just about any possible thing I could be excited about!
• What made you start blogging?
I dream of being a traveling, freelance writer and fiction author. I love to tell stories and share experiences, and I am a far better writer than I am confident speaker which is why I choose long form blogging instead of podcasting and video blogging. I never managed to shake that journalism bug– the undergrad major that got away.
• How did you come up with your blog name?
I would hate to say that I was nerding out before it was considered cool, but I did get made fun of for my Sailor Moon lunch box back in high school in 1993. Over the years, I've not only accepted my nerdy ways, but embraced them. Since my return from Japan, there was always nerdy undertones to my written pieces. This February, I finally decided to own up to it and let my nerd flag fly!
• How long were you running your blog before you started getting many followers?
It's been several years, but within the last year, I started meeting inspiring women (and some men, too), who have provided me indispensable advice and guidance in sculpting my blog into what it is today: a lifestyle blog celebration of a nerdy gal in her late 30s.
• Walk me through the process that you went through to get your blog to where it is today.
Introspection and plenty of trial and error. At first, I simply threw my thoughts out there, but then I made the mistake of asking too many people for their feedback. Often the
• How many books do you read in a month?
I strive for two to three, but since buying my townhome in December and adopting my dog in February, the reading efforts have been more articles online and magazines. I am working on rekindling my love for reading, I just need to carve out the time to do it!
• What book did you read most recently that you loved, and would recommend to everyone?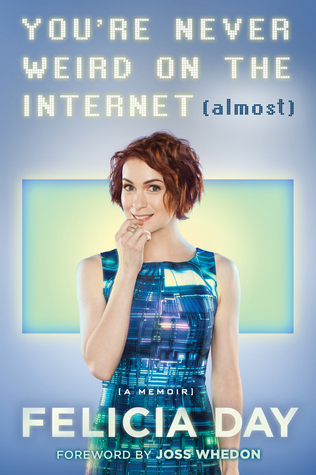 You're Never Weird on the Internet (Almost!) by Felicia Day. I listened to the narration by Felicia, and bought a signed copy soon afterward. Any nerd girl worth her salt can appreciate the things Felicia has to say.
• What are the top questions you get asked by your readers? (and the answers)
1. Do you really speak Japanese? (Yes, as I lived in one of the most rural places in Japan. I could not go to a McDonalds and order a cheeseburger with a picture menu without knowing Japanese, so I forced myself to stay late 2-4 nights a week to study. Have I passed the top level Japanese Language Proficiency Tests? No, but I am currently working on a study plan, so I can take Level N2 in 2017.)
2. Don't you miss being a flight attendant? (Yes and no. I miss visiting new cities, making new friends, and hopping the plane at the drop of a hat. I don't miss 3AM wake up calls, rude people, or daily pat downs at TSA.
3. How come you live in Florida, but aren't tan and at the beach all day? (While I have spent most of my life calling The Sunshine State home, my heritage is 50% French Canadian, 25% Swedish, and 25% Puerto Rican. I don't tan. I from Casper to Lobster in several hours without SPF 70-110+. Even if I could go to the beach every day, I'd be the gal with the big floppy hat and polarized sunglasses under the umbrella or tent just trying not to fry.)
• If a new blogger came up to you today, and you only had a few minutes to talk, what would be your best blogging tip?
Do not sacrifice your authenticity and voice for money. I have seen too many bloggers, including friends, become obsessed with the bottom line and making a name for themselves, that their blog now reads like a string of commercials and their attitude towards me has shifted from friend to rival/competition. It makes me sad.
• Have you ever liked the movie more than the book? Be honest! (and tell us which one!)
Part of my English degree was in film courses, so this is one heavily debated and beefy question for me! The only film I can honestly say I enjoyed MORE than the book (despite absolutely loving the book) would be The Princess Bride. While William Goldman's fantasy novel is one of my favorites of all time, the actors which brought the book to life: Cary Elwes, Andre the Giant, Billy Crystal, Mandy Patinkin, Robin Wright… and so many more… MADE me appreciate the book more. Unlike other book to films where somebody's always got a beef about something "the film did wrong…" you'll be hard pressed to find someone who has read The Princess Bride and claim to hate the film.
• Are there any popular books you know you would never read (i.e. 50 shades of grey, tell us which one)?
I read one page of 50 Shades, and immediately snapped the book shut. I am not a fan of it at all. The only version of that series which I enjoy is 50 Shades of Takei. I also follow 50 Sheds of Gray and 50 Shades of Gran on Twitter and they are both hysterical.
• Any new blog features you are working on?
I am really enjoying my own Friday Five: where I answer five questions related to a random topic. My biggest project comes with a big price tag and that is the decoration and DIY projects for my Lil House of the Nerdy.
• What are 5 items you never leave home without?
Bag, sunglasses, clean underpants, happy-go-lucky attitude and a smile!
• Anything else you would like to add?
Critical weaknesses include: puppies, craft beer, spectacularly bad puns, and being ticklish. Scratch that last one. You don't want to tickle me. You want to give me piles of money. 😉
Stalk Karen:
Thank you so much for joining us!! ❤
PS: Any questions for Karen?