Today I am honored to host Jessica from Novel Cravings on our blog!!
Give us the history of you. (family life, where you're from, etc.)

My name is Jessica, I am a twenty-something stay at home mom. I am kept busy by my son, my little ten pound wiener dog and a towering TBR. I have lived in my present city for five years, before that I lived in Vancouver. Do I miss it? Yes. What part? THE FOOD. I have many tattoos, I'm a runner and a writer, I can only keep orchids alive, I was a welder before my son, I read 90% fantasy, and my eyes are green. All really important-to-know stuff. Haha. I am still a blogging newbie, and I do Booktube videos as well but I enjoy my blogging more. This year I hope to buy my first home, read 60 books and blog my heart out in my spare time.

• When did you start blogging? Was this your first blog?

I started my first blog last October called novelcravings

• What made you start blogging?

I didn't know much about the online book community and when I discovered it my whole world kind of changed. Before, I would read a book and have no one to talk to about how good it was. So I just sort of jumped in and made a blog and a bookstagram account; I couldn't wait to be a part of the community. Finally someone to talk to about my latest book boyfriend!

• How did you come up with your blog name?

It is sort of a play on words because most people I know in real life don't love books the way I do. 'Novel' can mean 'unusual' and that's how my craving for books is seen by my friends and family. It seemed fitting.

• How long were you running your blog before you started getting many followers?

Honestly? I think I just hit 40, so I don't think I can answer this one! I love each and everyone one of my followers though, they are the kind who like and comment constantly. I started blogging to talk to other book nerds so I'm glad to have found some.

• Walk me through the process that you went through to get your blog to where it is today.

I thought long and hard about a name and then just sort of dove in. I didn't think about the next part much. Only now I am starting to have some idea of posts i want to do on a regular basis and some original ideas. The design of my blog was tough too! I am not tech savvy, but I think I finally got it looking a way I like. I think it's all about growing, learning and evolving. Like learning to walk, it isn't pretty in the start but before you know it you're running!

• How many books do you read in a month?

Oh this is a hard one for me at the moment. I have a six month old who's sleep changes weekly. So however many he lets me! Most months its about four, having a page count average of 400. This month it was eight, one was an audio book, I can often fit those in while I do other things around the house so I want to listen to more. Any recommendations?

• What book did you read most recently that you loved, and would recommend to everyone?

Six of Crows by Leigh Bardugo. No hesitation and no thought needed on this one. There is a Heist. Sass. Steamy Romance. Action. Need I say more? Yes, I really enjoyed Queen of the Tearling and Truthwitch as well and yes, you should go read them too. However, they won't appeal to everyone as is the case with most books. Six of Crows however really has something for everyone, in my opinion. So yeah, what are you waiting for? Why are you still reading this? Go read the book!

• What are the top questions you get asked by your readers?
I don't know that my 40 followers have asked me re-occurring questions? Not yet anyway. Where do I live is the one I get most on twitter. And the answer is Canada. In British Columbia to be exact, way down south almost on the US border. Just a little city in the mountains, there isn't much to do here but read or go hiking but it sure is beautiful.

• If a new blogger came up to you today, and you only had a few minutes to talk, what would be your best blogging tip?

Be you. Write a post you would want to read yourself. I felt like I had to write what people would read. Like I should do EVERY meme just to say I participate. You know what? It was boring and stressful, because I couldn't think of anything to say. So I stuck with the typical blog topics and memes I liked and added in my own ideas. Now I enjoy it and I feel confident in my content. It may not appeal to everyone but that isn't the point of blogging. Do it for you and for the few really loyal followers who come back and comment frequently.

• Have you ever liked the movie more than the book? Be honest!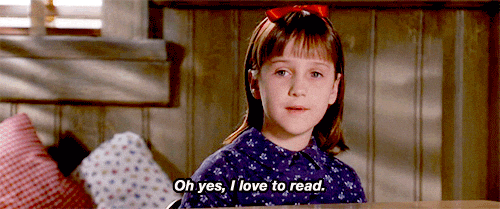 I CANNOT read a book after seeing the movie. I just can't. I know what happens! It's shameful, I know. So which movie was better? Matilda. I recently read the book and it was good, don't get me wrong, but the movie with the music and the added content was perfect!

• Are there any popular books you know you would never read (i.e. 50 shades of grey, tell us which one)?

I never finished 50 Shades of Grey, and I have no interest in the Narnia books, A Series of Unfortunate Events, or The Mortal Instruments. I'm sure I have just insulted half of you and I do apologize. Life is short, so I strongly believe in reading only what you love and we can't all love the same books.

• Any new blog features you are working on? 

Page 395 , a meme in honor of Alan Rickman, is new and posted on the 14th of every month. Also, Confessions of a Book Hoarder; I talk about my thoughts as a reader/hoarder rather than a blogger/reviewer. I wanted readers to get a more personal glimpse of me. And lastly, Bookish Horoscopes, where I recommend a book based on your star sign. I'm not a horoscope reader but it was a fun way to match books with 'predicted' personalities.

• What are 5 items you never leave home without?
I am terrible at these questions. Excluding loved people and pets because you did say ITEMS I would have to say: my phone/camera, book I'm reading, notebook, pen, and a snack. (Most likely a bag of almonds or a banana)

• Anything else you would like to add?
I really enjoyed this interview, and want to thank Kaitlin for asking me to participate. I hope I get to meet some new people, and make new friends because of it! Have a great day!
Thanks so much for being here today Jessica!! ❤
Stalk Jessica:
https://novelcravings.wordpress.com/
https://twitter.com/NovelCravings
https://www.youtube.com/channel/UC-7Fn_hhfmk-tfpDtiOsqWA
https://www.instagram.com/novelcravings/
https://www.pinterest.com/novelcravings/
https://www.goodreads.com/user/show/48220582-jessica-novel-cravings