I previously had a different book blog, and I had a bunch of problems with the hosting company I used for the blog, and all of my content was deleted.  I managed to salvage some of my reviews from back then by compiling what  I wrote on Goodreads, Amazon, and Barnes and Nobles review sections.  See some that I have already posted here.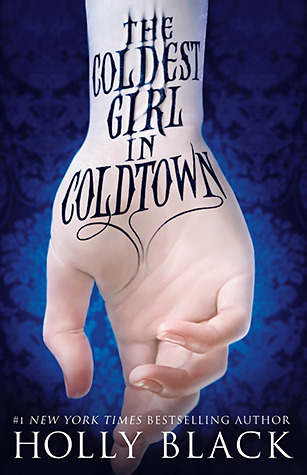 Goodreads Summary:
Tana lives in a world where walled cities called Coldtowns exist. In them, quarantined monsters and humans mingle in a decadently bloody mix of predator and prey. The only problem is, once you pass through Coldtown's gates, you can never leave.
One morning, after a perfectly ordinary party, Tana wakes up surrounded by corpses. The only other survivors of this massacre are her exasperatingly endearing ex-boyfriend, infected and on the edge, and a mysterious boy burdened with a terrible secret. Shaken and determined, Tana enters a race against the clock to save the three of them the only way she knows how: by going straight to the wicked, opulent heart of Coldtown itself.
The Coldest Girl in Coldtown is a wholly original story of rage and revenge, of guilt and horror, and of love and loathing from bestselling and acclaimed author Holly Black.
My Thoughts:
I liked this book a lot! I originally read the short story of the same name, so I thought this book was just going to expand on that, it doesn't. The book is set in the same world, in the same Coldtown. It makes mention of the characters from the short story, but they are not in this book. This book is about a teen who wakes up from a drunken night at a party in a bathtub, only to find out everyone inside has been murdered by vampires. She basically goes into shock, and it takes her a while to make a plan. She realizes that the vampires might be in the house, and that she needs to get out. She goes to find her shoes, and things, and finds her ex, Aiden is alive, and tied to a bed. Also in the room is a vampire who is in chains. She wants to save Aiden, but realizes he is already Cold (infection from vampire bites, that turns you into a vampire.) He tries to bite her (because infected people crave human blood, and if they drink it they turn into a vampire.) She ends up assuring herself that he will not bite her, and she saves him, she also saves the vampire in the room, whose name is Gavriel, because she can't just leave him to die. She gets both of them out, and Aiden starts driving. He takes them to a rest stop just outside of Coldtown, where they are going to go. They meet two vampire groupies named Midnight and Winter, who want a ride into Coldtown with them. The rest of the book talks about their time in Coldtown.
I was surprised to find out the book wasn't just an expansion of the short story, but that did not make me like the book any less. The characters were likeable, if not a bit predicable. (I expected what happened with Midnight, Aiden, and Pearl's characters.) There was a lot that I didn't anticipate though, and that kept the book interesting. I read it fairly quickly, because it was a great read. I would definitely recommend to anyone who likes Holly Black's other books, especially if you enjoyed the original short story. You might be a bit frustrated by the cliff hanger, but if there isn't another book, you get to imagine what happens, which I kind of liked in this case (normally that annoys me.) Overall ❤ it!