I previously had a different book blog, and I had a bunch of problems with the hosting company I used for the blog, and all of my content was deleted.  I managed to salvage some of my reviews from back then by compiling what  I wrote on Goodreads, Amazon, and Barnes and Nobles review sections.  See some that I have already posted here.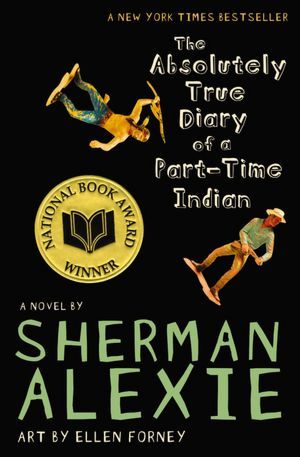 Goodreads Summary:
Bestselling author Sherman Alexie tells the story of Junior, a budding cartoonist growing up on the Spokane Indian Reservation. Determined to take his future into his own hands, Junior leaves his troubled school on the rez to attend an all-white farm town high school where the only other Indian is the school mascot.
Heartbreaking, funny, and beautifully written, The Absolutely True Diary of a Part-Time Indian, which is based on the author's own experiences, coupled with poignant drawings by Ellen Forney that reflect the character's art, chronicles the contemporary adolescence of one Native American boy as he attempts to break away from the life he was destined to live.
With a forward by Markus Zusak, interviews with Sherman Alexie and Ellen Forney, and four-color interior art throughout, this edition is perfect for fans and collectors alike.
My Thoughts:
You can tell by my list of favorite quotes from this book that I loved it. It hit pretty close to home for me. There is a lot about alcoholism, and family problems. This book is darkly funny, by that I mean it will have you laughing during the grandmother's funeral. It is fiction of course, but it also made me realize a lot of things about the Native American culture that I never really thought of before (even though my mother swears we are some fraction Native American.) I guess when you are removed from situations, it's easy to forget that other people might be struggling.

Fave quotes:

"If you let people into your life a little bit, they can be pretty damn amazing."

"Life is a constant struggle between being an individual and being a member of the community."

"I think all of us are always five years old in the presence and absence of our parents."

"If you're good at it, and you love it, and it helps you navigate the river of the world, then it can't be wrong."

"Poverty doesn't give you strength or teach you lessons about perseverance. No, poverty only teaches you how to be poor."

"There are all kinds of addicts, I guess. We all have pain. And we all look for ways to make the pain go away."

"Drinking would shut down my seeing and my hearing and my feeling," she used to say. "Why would I want to be in the world if I couldn't touch the world with all of my senses intact?"

"I've learned that the worst thing a parent can do is ignore their children"

"We Indians really should be better liars, considering how often we've been lied to."

"In the middle of a crazy and drunk life, you have to hang onto the good and sober moments tightly."

""Yep, my daddy was an undependable drunk. But he'd never missed any of my organized games, concerts, plays, or picnics. He may not have loved me perfectly, but he loved me as well as he could."