I previously had a different book blog, and I had a bunch of problems with the hosting company I used for the blog, and all of my content was deleted.  I managed to salvage some of my reviews from back then by compiling what  I wrote on Goodreads, Amazon, and Barnes and Nobles review sections.  See some that I have already posted here.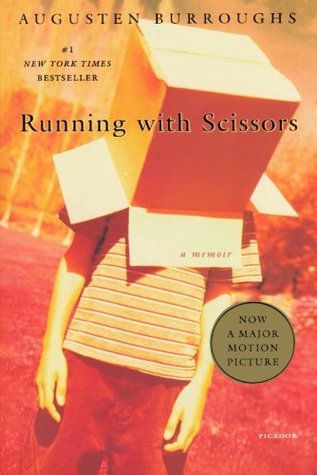 Goodreads Summary:
Augusten Burroughs is the author of the bestselling trilogy, Running with Scissors, Dry, and Lust & Wonder. Return to the memoir that started it all.
The true story of a boy whose mother (a poet with delusions of Anne Sexton) gave him away to be raised by her unorthodox psychiatrist who bore a striking resemblance to Santa Claus.
So at the age of twelve, Burroughs found himself amidst Victorian squalor living with the doctor's bizarre family, and befriending a paedophile who resided in the backyard shed. The story of an outlaw childhood where rules were unheard of, and the Christmas tree stayed up all year round, where Valium was consumed like candy, and if things got dull an electroshock-therapy machine could provide entertainment. The funny, harrowing and bestselling account of an ordinary boy's survival under the most extraordinary circumstances.
My Thoughts:
I hated this book. I don't even know why I kept reading it. I read about tough issues all the time, suicide, drug abuse, mental illness. This book was just disturbing to me. I was under the impression that this was going to be a funny take on this person's shitty childhood or something like that. This is not what I was expecting. The book was disconcerting to say the least. It was disgusting and I don't understand why anyone liked this book. I definitely don't understand how anyone thought this was humorous. Apparently this book isn't even a true memoir, like it was portrayed, there was some kind of law suit from the people he talked about in the book, about how he lied about them. That makes it way worse somehow.