I previously had a different book blog, and I had a bunch of problems with the hosting company I used for the blog, and all of my content was deleted.  I managed to salvage some of my reviews from back then by compiling what  I wrote on Goodreads, Amazon, and Barnes and Nobles review sections.  See some that I have already posted here.
Goodreads Summary:
For Sabrina and Daphne Grimm, life has not been a fairy tale. After the mysterious disappearance of their parents, the sisters are sent to live with their grandmother–a woman they believed was dead! Granny Relda reveals that the girls have two famous ancestors, the Brothers Grimm, whose classic book of fairy tales is actually a collection of case files of magical mischief. Now the girls must take on the family responsibility of being fairy tale detectives.
My Thoughts:
What a fun read! In this book you meet Sabrina and Daphne Grimm, two girls, whose life has been far from perfect. Their parents disappeared without a trace, and the only clue being a mysterious red hand print. They have been sent from foster home to foster home, and now they are being sent to someone who claims to be their grandmother (even though their father told them she was dead!) Once they get there, they learn, they are descendants of the Brothers Grimm, and have to carry on the family tradition of being detectives for Everafters (fairy-tale characters, that are alive, and living in their town!) Daphne (the youngest) believes right away, and loves Granny Relda. Sabrina, however, doesn't believe any of it, and wants to sneak Daphne out of this lunatics house before something bad happens. She discovers the truth when a giant starts wrecking the town! This is an exciting, quick read. I was able to read it in only a few hours, and start on the next book. Anyone who loves fairy tales, and would like to see their favorite characters in a new light, will love this series. I think kids will love it, because of the fairy tale elements, but also because there is a lot of action, and the story progresses at a quick pace.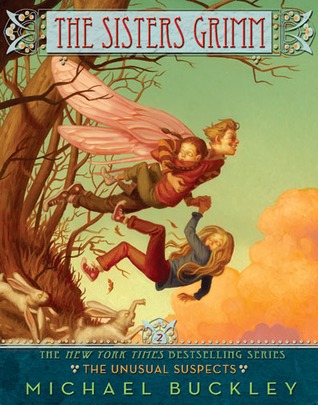 Goodreads Summary:
Orphaned sisters Sabrina and Daphne are sent to live with their mysterious grandmother. The girls start school, and Daphne is lucky to get Snow White for a teacher, but Sabrina is stuck with mean Mr Grumpner and a class of mildly psychotic sixth graders. When Mr Grumpner is murdered, the sisters must discover which Everafter is responsible.
My Thoughts:
How cute is this series? In book 2 Daphne and Sabrina are off to start school. Daphne gets Snow White as teacher, and she is super excited! (Didn't Snow White teach in the show Once Upon a Time also?) Sabrina however has Mr. Grumpner, and you can tell by his name, he is a big old meanie, and then things get worse when Puck joins her class! Mr. Grumpner ends up murdered, and the Sisters Grimm along with their Grandma, try to discover who the culprit is.
This is a quick, fun read, and I think all fairy tale lovers will enjoy this book. It ends on a cliff hanger, so you need book 3 to find out what happens.
Goodreads Summary:
A GRIMM FAMILY REUNION
For Sabrina and Daphne Grimm, the latest in a long line of fairy-tale detectives, there is one mystery they want to solve more than all the others: Who kidnapped their parents more than a year ago? Sabrina enters the hideout of the Scarlet Hand, the sinister group of Everafters who are keeping her parents prisoner. She has a chance to rescue her mom and dad but is foiled by the most famous fairy-tale character in the world. How can a human child defeat a magic one? With the help of her little sister (who might be tougher than Sabrina realizes) and a long-lost relative, Sabrina finds a powerful weapon for fighting her enemies, and discovers that magic has a high price.
My Thoughts:
In this book we get to find out which Everafters from the Scarlett Hand have taken Sabrina and Daphne's parents. This is a series I wish I had read as a child. I enjoy it now as an adult, but think I would have loved it more as a child. This book has some beloved fairy tale characters set as unexpected villains. And some you would expect. The story gets better and better with each book. The story continues from book to book, but each book has its own story also, which keeps the series interesting. The story doesn't get redundant or boring. Loved it!
Goodreads Summary:
Sabrina and Daphne's adventures continue in their hometown of New York City as they bring Puck to Faerie to cure the wounds. With the help of Granny Relda, the girls must figure out who killed Puck's father, King Oberon, while navigating the warring factions of Everafters that make their homes in every neighbourhood of New York City.
My Thoughts:
Book 4 of the Sisters Grimm series does not disappoint. It has the same fast pace, and action as the previous books in the series. In this installment, the girls need to figure out who killed Puck's father. The girls get to leave Fairyport Landing, and travel to New York, their former home, to solve this mystery. I love how the series uses so many books for the characters, not just the classic fairy tales you would think of, although they are in the book also. The series is really cute, and if you have gotten all the way to book 4, I don't think you will be disappointed.
Goodreads Summary:
Sabrina and Daphne Grimm are ready to tackle their own case: who is stealing the magical possesions of the most powerful Everafters in town? With Granny distracted by Mayor Heart's campaign against human residents, the girl detectives appear to be on their own.
My Thoughts:
The girls and puck get their own mystery to solve in this book. Someone is stealing magical items from the Everafters, and the girls must find out who is it. Relda Grimm has her own issues with the Queen of Hearts, as mayor, trying to over tax all of the humans, and run them out of town. These books are funny and cute. They are quick and easy reads, and I think children will love them. There is a lot of action in this book and of course, mystery. I love how you see a different side of all the fairy tale characters you thought you knew.