I previously had a different book blog, and I had a bunch of problems with the hosting company I used for the blog, and all of my content was deleted.  I managed to salvage some of my reviews from back then by compiling what  I wrote on Goodreads, Amazon, and Barnes and Nobles review sections.  See some that I have already posted here.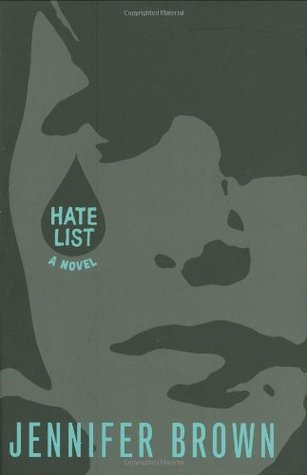 Goodreads Summary:
Five months ago, Valerie Leftman's boyfriend, Nick, opened fire on their school cafeteria. Shot trying to stop him, Valerie inadvertently saved the life of a classmate, but was implicated in the shootings because of the list she helped create. A list of people and things she and Nick hated. The list he used to pick his targets.
Now, after a summer of seclusion, Val is forced to confront her guilt as she returns to school to complete her senior year. Haunted by the memory of the boyfriend she still loves and navigating rocky relationships with her family, former friends and the girl whose life she saved, Val must come to grips with the tragedy that took place and her role in it, in order to make amends and move on with her life.
My Thoughts:
Wow. This book was amazing. It is about a girl named Valerie, whose boyfriend shot up the school, and her, while she unintentionally saved another student from being shot. She is accused of being a part of the shooting, because 1) she was dating the shooter, and 2) he used a list she started to choose his victims. The infamous Hate List, includes all of the people and things they hated. The following school year, Val is back in the same school with the people who hold her responsible for the shooting (since her boyfriend is dead) and she has to struggle through her guilt, and getting through he senior year. I liked how she she has mixed feelings about her boyfriend Nick, because she was in love with him, before he shot up the school, and since he is dead, she never really got closure. I also understand how she felt by making the hate list, because she was bullied, but never intended it to escalate that far. I like how it is written from the perspective of someone involved with the shooter, and shows the state of mind he was in, and shows that although was he did was inexcusable, it shows he was still human, and at the breaking point, not just some monster.