I previously had a different book blog, and I had a bunch of problems with the hosting company I used for the blog, and all of my content was deleted.  I managed to salvage some of my reviews from back then by compiling what  I wrote on Goodreads, Amazon, and Barnes and Nobles review sections.  See some that I have already posted here.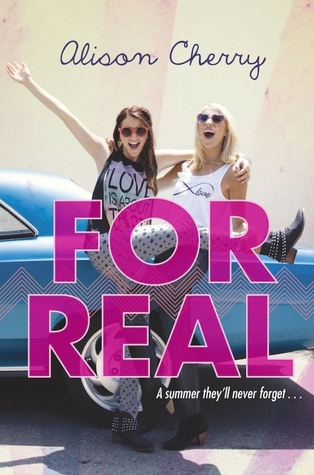 Goodreads Summary:
No parents. No limits. No clue what they're in for.
Shy, cautious Claire has always been in her confident older sister's shadow. While Miranda's life is jam-packed with exciting people and whirlwind adventures, Claire gets her thrills vicariously by watching people live large on reality TV.
When Miranda discovers her boyfriend, Samir, cheating on her just before her college graduation, it's Claire who comes up with the perfect plan. They'll outshine Miranda's fame-obsessed ex while having an amazing summer by competing on Around the World, a race around the globe for a million bucks. Revenge + sisterly bonding = awesome.
But the show has a twist, and Claire is stunned to find herself in the middle of a reality-show romance that may or may not be just for the cameras. This summer could end up being the highlight of her life… or an epic fail forever captured on film. In a world where drama is currency and manipulation is standard, how can you tell what's for real?
My Thoughts:
I got this book for free at ALA. I was surprised that I enjoyed this book. I HATE reality television. I don't think the cover matches the book either. Claire is a reality tv junkie. She and her bestie watch all the reality shows, and love them! Her older sister Miranda, however doesn't watch reality tv, she is too busy being a social butterfly, something that Claire is not. Miranda's boyfriend, Samir, cheats on Miranda, so Claire helps her plot to get back at him. Claire comes up with the idea that they try out for the show that Samir is going to be on, kind of an amazing race. The sisters team up to beat Samir, and not let him win the 1 million dollar prize. However, there is a twist that neither of them was expecting. This book was actually really interesting, but if it was a show, I definitely would NOT watch it. I didn't enjoy Miranda's character AT ALL, but Claire was loveable and relate-able. All in all, I wouldn't read it again, but I did enjoy it.