I previously had a different book blog, and I had a bunch of problems with the hosting company I used for the blog, and all of my content was deleted.  I managed to salvage some of my reviews from back then by compiling what  I wrote on Goodreads, Amazon, and Barnes and Nobles review sections.  See some that I have already posted here.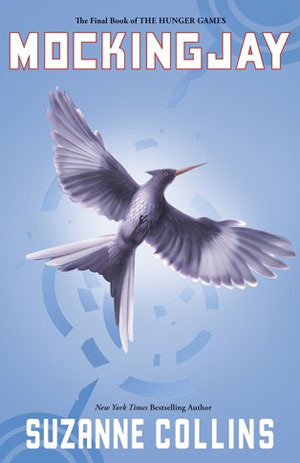 Goodreads Summary:
My name is Katniss Everdeen.
Why am I not dead?
I should be dead.
Katniss Everdeen, girl on fire, has survived, even though her home has been destroyed. Gale has escaped. Katniss's family is safe. Peeta has been captured by the Capitol. District 13 really does exist. There are rebels. There are new leaders. A revolution is unfolding.
It is by design that Katniss was rescued from the arena in the cruel and haunting Quarter Quell, and it is by design that she has long been part of the revolution without knowing it. District 13 has come out of the shadows and is plotting to overthrow the Capitol. Everyone, it seems, has had a hand in the carefully laid plans–except Katniss.
The success of the rebellion hinges on Katniss's willingness to be a pawn, to accept responsibility for countless lives, and to change the course of the future of Panem. To do this, she must put aside her feelings of anger and distrust. She must become the rebels' Mockingjay–no matter what the personal cost.
My Thoughts:
This trilogy is so good!  I love that the book wasn't all flowery and happily ever after at the end.  The entire series wasn't like that and I think it would have ruined the book for me if it ended all mushy and amazing.  This is definitely a series to read.