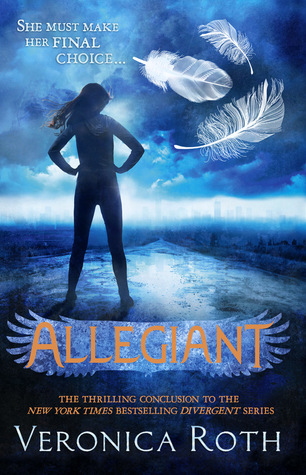 Goodreads Summary:
What if your whole world was a lie?
What if a single revelation—like a single choice—changed everything?
What if love and loyalty made you do things you never expected?
The explosive conclusion to Veronica Roth's #1 New York Times bestselling Divergent trilogy reveals the secrets of the dystopian world that has captivated millions of readers in Divergent and Insurgent.
My Thoughts:
Like I said in the last two reviews for this series this is a mash-up of my thoughts from last year when I read the book and what I remember. I'm not going to give you much because this is the conclusion. Tris and Tobias leave the faction city behind to live outside the walls, hopefully free from war. Here more secrets are revealed, and their lives spin even further out of control.  HOW DARE YOU VERONICA ROTH. HOW DATE YOU….
The conclusion of the trilogy made me cry, and at one part I had to throw the book across the room, and needed some time to compose myself.

I loved this series. Go read it. Now. Go.
Favorite Quotes: