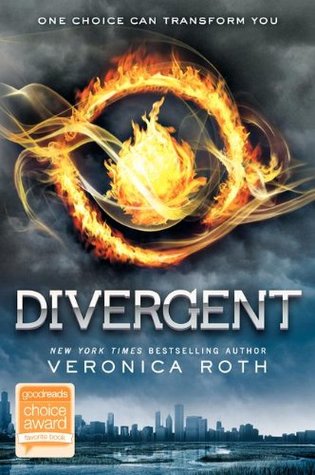 Goodreads Summary:
In Beatrice Prior's dystopian Chicago world, society is divided into five factions, each dedicated to the cultivation of a particular virtue–Candor (the honest), Abnegation (the selfless), Dauntless (the brave), Amity (the peaceful), and Erudite (the intelligent). On an appointed day of every year, all sixteen-year-olds must select the faction to which they will devote the rest of their lives. For Beatrice, the decision is between staying with her family and being who she really is–she can't have both. So she makes a choice that surprises everyone, including herself.
During the highly competitive initiation that follows, Beatrice renames herself Tris and struggles alongside her fellow initiates to live out the choice they have made. Together they must undergo extreme physical tests of endurance and intense psychological simulations, some with devastating consequences. As initiation transforms them all, Tris must determine who her friends really are–and where, exactly, a romance with a sometimes fascinating, sometimes exasperating boy fits into the life she's chosen. But Tris also has a secret, one she's kept hidden from everyone because she's been warned it can mean death. And as she discovers unrest and growing conflict that threaten to unravel her seemingly perfect society, Tris also learns that her secret might help her save the ones she loves . . . or it might destroy her.
My Thoughts:
I hated the movie! I know a lot of you are thinking:


but the movie was really bad.  I'm not here to talk about the movie though. 

I loved this book.  The cover wasn't enough for me to pull it off the shelf, but the hype was crazy around this book. I read it last year, so I may be a little rusty on all the details. The author really pulls you into her dystopian world.  It really plays off how society is today, with how we judge and label everyone.  A "Oh you should be this way", "No, he can't be that way" sort of thing.  There are five factions Abnegation (totally selfless,) Candor (completely honest,) Dauntless (fearless,) Amity (happy and peaceful,) and Erudite (geniuses).  I really like how the factions are actually named after the trait, but the words are obscure and

you would only know that if you knew the words already or you looked them up (very Erudite of you!) You have to fit into one of these factions (and only one) and only have the traits of that faction. That faction is your family now, and your old life and family are not exactly forgotten, but they are gone. 
When the teenagers come of age (16) they are brought to take a test that will tell them which faction they are best suited for.  Ultimately though, it is there decision.  If they choose a faction, and are not able to make it through the initiation, they don't get to choose again, or go back to their families, they become factionless, and outcast.  This is horrible and unthinkable.  Tris and her brother both choose different factions from their family, and from each other.  During Tris' test she finds out she is Divergent.  Divergents are the ones whose test puts them in more than one faction. They don't exactly fit into the mold they are supposed to. This disrupts the system. Since she fits into any of 3 factions, she ends up choosing Dauntless. This changes Tris physically and mentally and brings out the strongest side of herself.  The government is trying to figure out all of the Divergent citizens to put an end to the threat to their system.  Tris falls for a guy named Four, who is crush-worthy.

When I took the test I got Candor, which is pretty spot on, since I have been called "brutally honest" on more than one occasion.


Favorite Quotes:

PS: What did you think of the movie? The book?