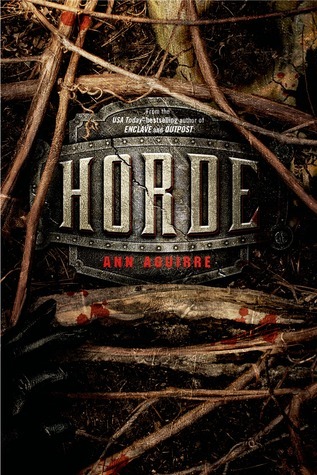 Goodreads Summary:
The epic conclusion to the USA Today bestselling trilogy.
The horde is coming.
Salvation is surrounded, monsters at the gates, and this time, they're not going away. When Deuce, Fade, Stalker and Tegan set out, the odds are against them. But the odds have been stacked against Deuce from the moment she was born. She might not be a Huntress anymore, but she doesn't run. With her knives in hand and her companions at her side, she will not falter, whether fighting for her life or Fade's love.
Ahead, the battle of a lifetime awaits. Freaks are everywhere, attacking settlements, setting up scouts, perimeters, and patrols. There hasn't been a war like this in centuries, and humans have forgotten how to stand and fight. Unless Deuce can lead them.
This time, however, more than the fate of a single enclave or outpost hangs in the balance. This time, Deuce carries the banner for the survival of all humanity.
My Thoughts:
This book cover goes well with the other books in the series.
What I thought after 115 pages: This book is as good as the rest so far.  I was sure Salvation wasn't going to last after Deuce and co went for help at Soldier's Pond, but I'm surprised they found survivors.  I thought they would be gone too long.  Soldier's Pond seemed a good match for Deuce until they said she can't join the military, which seems ridiculous, since they have seen what she can endure, and have watched her in battle.  The Colonel is a pretty shitty person, although she seemed nice at first, I'm glad Deuce almost broke her arm before she went on the requested (more like demanded) mission.  Fade is getting over what the Freaks did to him a little, which is good because I don't think Deuce could handle this alone, emotionally.  Stalker has distanced himself from her for good reason, since she is picking broken Fade over whole Stalker.
What I thought after finishing:

I won't even go into what happens in this book so that I don't ruin the ending of the end for anyone who hasn't read this yet, but OMG I sobbed. We finally learn why the books are called the Razorland trilogy, which I was wondering THE ENTIRE TIME! I loved the way the book ended, and there was closure to everything. So much happens in this book, and the entire thing is surprising.  I loved it.  The series was amazing.
Favorite Quotes:
PS: Did you read the series?? What did you think of the ending? What about what Stalker does for Teagan (which I think was also for Deuce?) DID YOU CRY?