This is a book that I read and reviewed in 2013. Let me just say that this book was amazing!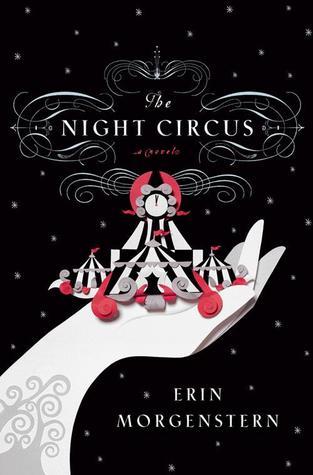 Goodreads Summary:
The circus arrives without warning. No announcements precede it. It is simply there, when yesterday it was not. Within the black-and-white striped canvas tents is an utterly unique experience full of breathtaking amazements. It is called Le Cirque des Rêves, and it is only open at night.
But behind the scenes, a fierce competition is underway: a duel between two young magicians, Celia and Marco, who have been trained since childhood expressly for this purpose by their mercurial instructors. Unbeknownst to them both, this is a game in which only one can be left standing. Despite the high stakes, Celia and Marco soon tumble headfirst into love, setting off a domino effect of dangerous consequences, and leaving the lives of everyone, from the performers to the patrons, hanging in the balance.
My Thoughts:
!!!!! OMG read this right now! It is so fucking good!  It is one of my favorite books now! ❤

I like it so much I am trying to design a tattoo to cover my right leg (Alice in Wonderland pin-up girls cover my left leg.) I love Harry Potter, Twilight, Hunger Games, Fifty Shades of Grey, and of course Alice in Wonderland is one of my most favoritest books ever, but I must say that Night Circus is the new favorite. I haven't enjoyed a book so much in a very long time.  I cannot even put into words how amazing this book was. I guess I could use amazing, magical, and mesmerizing; however those just don't do this book justice. I have never wanted a book to be more real than the Night Circus. I want to go there, and explore each tent. I want to try the chocolate mice, and to light a candle on the Wishing Tree. The description of the circus and each of the characters are so in depth  that I not only wish they were real, I feel bereft without them in my life. The book is set up with perspectives from many characters and the book spans over many years. It also has chapters devoted to telling you what you are actually seeing while you walk through the circus. I literally felt at moments that I was there, excited, and looking at the sights of each tent, or anxiously awaiting the sun to set so I could enter the circus. I don't see how a movie could be anywhere near as good as this story (as movies often are not), however I will be first in line to see it. I  finished the book, but feel the strong urge to start it again, RIGHT NOW.

Do yourself a favor (and everyone else you know) and go buy this now.
Are you going to read this (because you totally should!)? Have you ever wished a book was real?