Another installment of Couldn't Finish…wah..wah..wah..
How many of you stop reading a book if you don't like it?  Do you always hold out in hopes that it will get better?  How long do you keep reading before you give up?  I am terrible about this.  If I don't like a book almost immediately, I will move on to something else.  There are just so many great books out there waiting to be read, that I don't want to waste my time reading a bunch of boring books.  When I first starting getting free books from authors and publishers I would always read the entire thing, even if I hated it right from Chapter 1. I think this was worse for the people who sent me the book, because I would write them a terrible review, because I felt like I suffered through a high school class with a teacher that I hated who just droned on and on in a terrible monotone voice. UGH! Now I don't do that.  If I don't like a book within the first couple of chapters I ditch it and move on.  I know some books have amazing endings if you only give them a chance, but I don't want to.  It reminds me of this.
So now instead of rating these books, and writing awful reviews, and feeling guilty about it.  I just shove them over to a couldn't finish shelf on my Goodreads account. 
Here is a round-up of books I have purchased, been given, or checked out of the library, that I JUST COULDN'T FINISH!
Murder and intrigue surround a girl in this mystery set in American in the aftermath of WWII
When Evie's father returned home from World War II, the family fell back into its normal life pretty quickly. But Joe Spooner brought more back with him than just good war stories. When movie-star handsome Peter Coleridge, a young ex-GI who served in Joe's company in postwar Austria, shows up, Evie is suddenly caught in a complicated web of lies that she only slowly recognizes. She finds herself falling for Peter, ignoring the secrets that surround him . . . until a tragedy occurs that shatters her family and breaks her life in two.
Emmeline knows she's not supposed to explore the woods outside her settlement. The enemy that wiped out half her people lurks there, attacking at night and keeping them isolated in an unfamiliar land with merciless winters. Living with the shame of her grandmother's insubordination, Emmeline has learned to keep her head down and her quick tongue silent.
When the settlement leader asks for her hand in marriage, it's an opportunity for Emmeline to wash the family slate clean—even if she has eyes for another. But before she's forced into an impossible decision, her dreams urge her into the woods, where she uncovers a path she can't help but follow. The trail leads to a secret that someone in the village will kill to protect. Her grandmother followed the same path and paid the price. If Emmeline isn't careful, she will be next.
I got this book at the ALA conference in Las Vegas.  This book reminded me of The Hallowed Ones, and the movie The Village.  I just felt it was too familiar that I couldn't finish it.
Everyone likes to think they started the notebook. Sophie claims she stole the idea from two girls in her math class. Courtney still has a death grip on the theory that the notebook was her invention. Lindsey doesn't really care; she's just along for the ride. And Julia never knows what's going on anyway.What we do know is that we started the notebook in freshman year at Stuyvesant High School as a way to keep in contact when our conflicting schedules denied us one another's company. It allowed us to express ourselves and our views of the world in a tone of complete sarcasm, obscenity, and blind honesty. We've spent a significant portion of our adolescence trying to figure out who we are. The notebook is the closest we've come.We're just a group of normal girls with normal lives. Our notebook is meant to make you laugh and make you remember.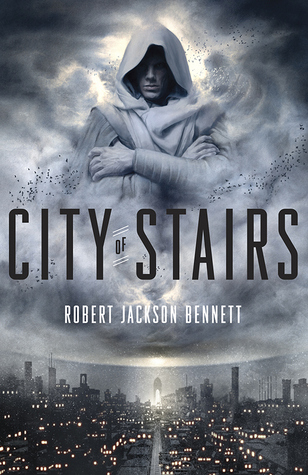 Years ago, the city of Bulikov wielded the powers of the Gods to conquer the world. But after its divine protectors were mysteriously killed, the conqueror has become the conquered; the city's proud history has been erased and censored, progress has left it behind, and it is just another colonial outpost of the world's new geopolitical power. Into this musty, backward city steps Shara Divani. Officially, the quiet mousy woman is just another lowly diplomat sent by Bulikov's oppressors. Unofficially, Shara is one of her country's most accomplished spymasters-dispatched to investigate the brutal murder of a seemingly harmless historian. As Shara pursues the mystery through the ever-shifting physical and political geography of the city, she begins to suspect that the beings who once protected Bulikov may not be as dead as they seem-and that her own abilities might be touched by the divine as well.
I got this book at the ALA conference in Las Vegas.  I didn't get very far into this before I gave up.  I don't know why, I just didn't enjoy it enough to keep going.
Mia has settled into her life with the Della Torres — Milan's premier demon-catching family, accompanying them to exorcisms and even learning some way to be useful in the family trade. Then Bernardo comes into her life, handsome, well-mannered, someone who makes her forget her impossible crush on Emilio, her cousin. But always lurking in the background is the demon who possessed Mia once before, and who has not given up on possessing her again–this time for good.
I got this book at the ALA conference in Las Vegas.  I couldn't get into this one either.  Again I am not sure what I didn't like about it.
After the premature death of her husband of thirty years, Anna Simon learns the comfortable life they shared in Seattle had been built on lies. The discovery of her husband's betrayal challenges everything she had previously believed. Grief and shock combine with menopause to topple her formerly secure identities as wife, mother, and educator. In an effort to build a new life, Anna pursues an interest in documentary film where she is surprised to find herself attracted to a talented and engaging woman. Will she have the courage to claim a new path, to trust her own feelings? Or will she scuttle back into her shell?
This book was supposed to be funny and touching, but I just found it boring and depressing.
In a bunker hidden deep beneath London live five extraordinary kids: meet world-famous hacker Jack, gadget geek Charlie, free runner Slink, comms chief Obi and decoy diva Wren. They're not just friends; they're URBAN OUTLAWS. They outsmart London's crime gangs and hand out their dirty money through Random Acts of Kindness (R.A.K.s).
Their latest mission – hacking the bank account of criminal mastermind Del Sarto – has landed them in serious trouble. Del Sarto is going head-to-head with MI5 for control of Proteus, an advanced quantum computer able to crack any code and steal top-secret documents in nanoseconds. It's down to the URBAN OUTLAWS to use their guile, guts and skill to destroy Proteus, avert world domination . . . and stay alive.
I got this book at the ALA conference in Las Vegas.  I actually really liked this book.  I didn't finish it because it was a bit young for my tastes, but I think Middle Grade readers will really get a kick out of it!

Did you read any of these books?  Are there any I should give another chance?  What are some books that you just couldn't finish?