How many of you stop reading a book if you don't like it?  Do you always hold out in hopes that it will get better?  How long do you keep reading before you give up?  I am terrible about this.  If I don't like a book almost immediately, I will move on to something else.  There are just so many great books out there waiting to be read, that I don't want to waste my time reading a bunch of boring books.  When I first starting getting free books from authors and publishers I would always read the entire thing, even if I hated it right from Chapter 1. I think this was worse for the people who sent me the book, because I would write them a terrible review, because I felt like I suffered through a high school class with a teacher that I hated who just droned on and on in a terrible monotone voice. UGH! Now I don't do that.  If I don't like a book within the first couple of chapters I ditch it and move on.  I know some books have amazing endings if you only give them a chance, but I don't want to.  It reminds me of this.
So now instead of rating these books, and writing awful reviews, and feeling guilty about it.  I just shove them over to a couldn't finish shelf on my Goodreads account. 
Here is a round-up of books I have purchased, been given, or checked out of the library, that I JUST COULDN'T FINISH!
When Germany invaded Poland, Stuka bombers devastated Warsaw—and the city's zoo along with it. With most of their animals dead, zookeepers Jan and Antonina Zabinski began smuggling Jews into empty cages. Another dozen "guests" hid inside the Zabinskis' villa, emerging after dark for dinner, socializing, and, during rare moments of calm, piano concerts. Jan, active in the Polish resistance, kept ammunition buried in the elephant enclosure and stashed explosives in the animal hospital. Meanwhile, Antonina kept her unusual household afloat, caring for both its human and its animal inhabitants—otters, a badger, hyena pups, lynxes.
I found this book, left over from a previous tenant from the apartment I am in.  I don't like historical fiction AT ALL. I figured I would give it a shot, cause hey, free book, and why not. I knew I wouldn't like it, and I didn't.
Toni V is a teenager working for the City Five demolition crew. While drilling through concrete he unearths a battered water can containing a parcel wrapped in faded brown paper. Though he's supposed to turn over anything he salvages, Toni V smuggles the package back to his room, unwraps it, and finds a notebook.

This is the diary of Pelly D. It's totally secret, so if you're reading it I hate you already.
I am obsessed with people's diaries (fake or not.)   I picked this up at the library because Diary is right there in the title.  That blurb is pretty interesting also, right?  IDK what it was about this book, but I was bored, and didn't get very far.
In picturesque nineteenth-century New England, tomboyish Jo, beautiful Meg, fragile Beth, and romantic Amy come of age while their father is off to war.
My grandma bought me this book when I was in high school.  I started it recently because it is a classic, and I should probably read some of those, especially being an avid reader, and running a bookish blog and all. I guess the classics aren't for me though. They are boring. I don't see the point in pretending to like something just because everyone else does, or to seem sophisticated. Most of these classics are outdated, with hard-to-read language. I'm not saying people don't genuinely enjoy them, just that I don't.
The war between Auphora, the Creator of all things, and his son Baran spans-and almost destroys-the galaxy. Their epic battles cost millions of lives, but peace comes with its own bloody repercussions. Gods and demi-gods plot to rule again. One planet stops turning, leaving its people trapped in eternal daylight, while another develops to the modern day, unaware that someone walks its streets carrying a secret that could bring an end to it all.
The author sent me this book.  I don't love sci-fi. I read a few chapters, but couldn't get into it.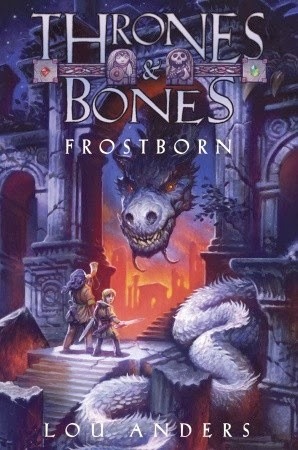 Meet Karn. He is destined to take over the family farm in Norrøngard. His only problem? He'd rather be playing the board game Thrones and Bones.

Enter Thianna. Half human, half frost giantess. She's too tall to blend in with other humans but too short to be taken seriously as a giant.

When family intrigues force Karn and Thianna to flee into the wilderness, they have to keep their sense of humor and their wits about them. But survival can be challenging when you're being chased by a 1,500-year-old dragon, Helltoppr the undead warrior and his undead minions, an evil uncle, wyverns, and an assortment of trolls and giants.
I got this book for free at the ALA conference in Las Vegas this past June.  I can see why people would enjoy this book. In fact I even told my husband to read it.  I got about a quarter of the way through (which is pretty far for me on a book I won't finish.) I semi-enjoyed it, and I don't really know what I didn't like about it, maybe I just wasn't in the mood.
These next three are books I checked out from the library, but can't remember what I did not like about them, because it has been a while.
Philadelphia high school who doesn't care about the prom. It's pretty much the only good thing that happens there, and everyone plans to make the most of it—especially Ash's best friend, Natalia, who's the head of the committee and has prom stars in her eyes. Then the faculty advisor is busted for taking the prom money and Ash finds herself roped into putting together a gala dance. But she has plenty of help—from her large and loving (if exasperating!) family, from Nat's eccentric grandmother, from the principal, from her fellow classmates. And in making the prom happen, Ash learns some surprising things about making her life happen, too.
If an entire nation could seek its freedom, why not a girl?

As the Revolutionary War begins, thirteen-year-old Isabel wages her own fight…for freedom. Promised freedom upon the death of their owner, she and her sister, Ruth, in a cruel twist of fate become the property of a malicious New York City couple, the Locktons, who have no sympathy for the American Revolution and even less for Ruth and Isabel. When Isabel meets Curzon, a slave with ties to the Patriots, he encourages her to spy on her owners, who know details of British plans for invasion. She is reluctant at first, but when the unthinkable happens to Ruth, Isabel realizes her loyalty is available to the bidder who can provide her with freedom.
Susan Calloway, bullied and overweight, faces daily humiliation at the hands of her classmates – and she's had enough. With her anger about to reach the boiling point, Susan lands in an alternative education class, a sort of group therapy for the nearly expelled.

School is bad enough, but facing off with five peers, including her cruelest tormentor, is worse. Now Susan is being forced to do something she's always avoided – talk about herself and listen to what other people have to say about her. She has two choices: find her voice, or be prepared to take the insults in silence. It won't be easy, but alt ed may be just the last resort Susan needs.